| | |
| --- | --- |
| Welcome Home, Alexander Nevsky! | |
Monday, 01 October 2012 11:17
Nuclear-powered missile carrier Alexander Nevsky has successfully completed another stage of sea trials in the White Sea.
Read more...
| | |
| --- | --- |
| Energy Forum Diploma | |
Tuesday, 25 September 2012 11:07
Sevmash delegation has returned from the 12th St.-Petersburg International Energy Forum that has just came to an end and that was devoted to the issues of hydrocarbon production on continental shelves, oil processing, nuclear industry, recoverable energy sources.
220 companies from 13 countries took part in the forum. Among such giants like Gazprom, Cameron, Wintershall the exposition stand of Sevmash compared favourably because of the exposed exhibits and information: Offshore Ice-Resistant Fixed Platform Prirazlomnaya, Multi-Purpose Rig MOSS CS-50, power unit of tidal power station, shipping casks for spent nuclear fuel. It was Sevmash exposition stand which became a place of discussion about the Arctic shelf exploration. In the discussion took part Director General of Gazprom Offshore Fields Development Engineering Department Vladimir Vovk, Deputy Minister of Energy of the RF Pavel Fyodorov, Deputy Chief Design Engineer of Sevmash Vasily Kuzmin. It was pointed out that the Prirazlomnoye project involved up-to-day oil production and processing technologies. This fact is recognized not only by Russian experts, but by foreign ones as well.
In parallel with the exhibition there was held a conference devoted to global energy problems of the XXI century, the role of alternative energy sources, safety of fuel and energy industry facilities, where more than 100 reports were made. The speakers noted that in spite of huge hydrocarbon reserves in the Russian sector of the Arctic region, new fields are explored and the proven fields are developed extremely slowly. 
More than one thousand visitors looked over the exhibition during three days and almost all of them paid attention to Sevmash stand. At the end of the forum the shipyard was awarded with a diploma for active participation, compleat professionalism and display relevance.

Press Service of JSC PO Sevmash 



| | |
| --- | --- |
| "The Ship Has Proved Herself to be an Aircraft Carrier" | |
Sunday, 23 September 2012 14:14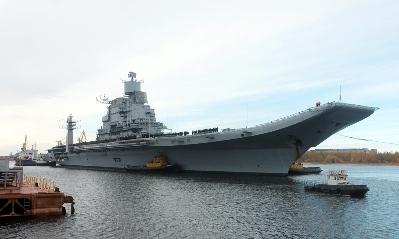 Today, on September 23rd, the aircraft carrier "Vikramaditya" is again back at Sevmash after partial completion of sea trials. The sea trials participants, i.e. yard's commissioning team, Russian and Indian crews, RAC "MIG" experts were triumphantly saluted ashore by senior representatives of United Shipbuilding Corporation, Sevmash, Northern Fleet and Client's representatives, Indian Naval Forces.
Read more...
| | |
| --- | --- |
| Yuri Dolgoruky is Ready for Commissioning | |
Monday, 01 October 2012 11:14
Sevmash is ready to sign Delivery Acceptance Report for lead nuclear-powered submarine cruiser pr. 955 Yuri Dolgoruky.
Read more...
| | |
| --- | --- |
| Indian Movies for Shipwrights | |
Monday, 24 September 2012 14:18
From September 23-26 Indian Film Festival took place in Severodvinsk timed to coincide with 75 years anniversary of the Arkhangelsk region and 65 years anniversary of the Russian-Indian diplomatic relations.
Read more...
| | |
| --- | --- |
| The Main Road to European Standards | |
Thursday, 20 September 2012 14:06
An opening ceremony of the road segment in Arkhangelskoye shosse running along Sevmash has taken place today. Governor, Mr. Igor Orlov, Mayor, Mr.Mikhail Gmyrin, Chaiman of Town Council, Mr. Vladimir Melekhin and Sevmash Acting Director General, Mr.Mikhail Budnichenko congratulated the citizens.
Read more...