| | |
| --- | --- |
| After a successful campaign | |
Friday, 08 October 2010 14:39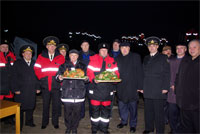 Today the submarine «Dmitriy Donskoy» has returned at the base
At early morning, when the rocket «Bulava» was successfully set in motion in Thursday, the submarine returned at the base. The crew was met by general director of Sevmash Nikolay Kalistratov, his vice – chief of the production of the military techniques Marat Abiganov, temporary execute commander of the White Sea`s base Aleksander Shevchenko, commander of the central military naval base Andrey Tkachev.
Thankfuled letters have been already begun to receive at the enterprise. One of the first – from chief of the Main Staff of the Fleet Navy – president of the State committee admiral Aleksander Tatarinov.

«Specialists of JSC «PO «Sevmash», FSUE «MIT», JSC «Makeev`s SRC», JSC CCB MT «Rubin» with the crew provided preparation of the submarine and her systems for successful tests», – it is written in the letter. – Taking into account state importance of the work, I express the great confess for all the collective «PO «Sevmash», officers and contragental organizations for literate and skilful acts during the rocket`s shooting».

At the moor commander of the submarine captain of the first rang Oleg Cibin and giver-in-chief Evgeniy Slobodjan received traditionally roasted sucking-pigs.


Anastasija Nikitinskaja,
leader of the press-service of JSC «PO «Sevmash»
Photo of Aleksander Holodov and Sergey Posdeev