Tuesday, 12 October 2010 10:55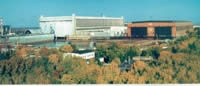 Sevmash is a multifunctional production facility provided with equipment of leading world engineering and machine-tool factories. Sevmash production facilities are formed in two independent production lines: the first one covers metallurgical and ship machine-building shops, and the second one includes shipbuilding and fitting-out shops.
With equipment updated, yearly sheet production actual rates increase from 45 up to 80 thousand tons. Production engineering is provided by specialists of Planning and Design Office and Scientific Technological Office in cooperation with Welding Department, Department of Metalurgy, Acoustics and etc.